YA Scavenger Hunt
Welcome to YA Scavenger Hunt! This bi-annual event was first organized by author Colleen Houck as a way to give readers a chance to gain access to exclusive bonus material from their favorite authors…and a chance to win some awesome prizes! At this hunt, you not only get access to exclusive content from each author, you also get a clue for the hunt. Add up the clues, and you can enter for our prize–one lucky winner will receive one book from each author on the hunt in my team! But play fast: this contest (and all the exclusive bonus material) will only be online for 72 hours!
Go to the YA Scavenger Hunt page to find out all about the hunt. There are SIX contests going on simultaneously, and you can enter one or all! We are part of the Blue TEAM–but there is also a red team, a gold team, an orange team, a red team, and an indie team for a chance to win a whole different set of books!
If you'd like to find out more about the hunt, see links to all the authors participating, and see the full list of prizes up for grabs, go to the YA Scavenger Hunt page.
About Us!
We're sisters who do everything together!
Our favourite hockey team is the Chicago Blackhawks
During the winter, you can always find the fireplace on our TV (and we always scream when we see The Hand!)
We own a small business that allows us to dress up as princesses on the weekend
Our favourite food is nachos
We chose 77 as Daniel Sacachelli's jersey number (in Just One of the Royals) because Kate's favourite hockey player's number is 88!
We love writing stories about princesses and princes and the sequel to Just One of the Boys will include both!
---
SCAVENGER HUNT PUZZLE
Directions:
 Below, you'll notice that we've listed our favorite number. Collect the favorite numbers of all the authors on the
BLUE TEAM
, and then add them up (don't worry, you can use a calculator!).
Rules: Open internationally, anyone below the age of 18 should have a parent or guardian's permission to enter. To be eligible for the grand prize, you must submit the completed entry form by April 8th, at noon Pacific Time. Entries sent without the correct number or without contact information will not be considered.
SCAVENGER HUNT POST
Today, we are hosting Heather W. Petty on our website for the YA Scavenger Hunt!
EXCLUSIVE CONTENT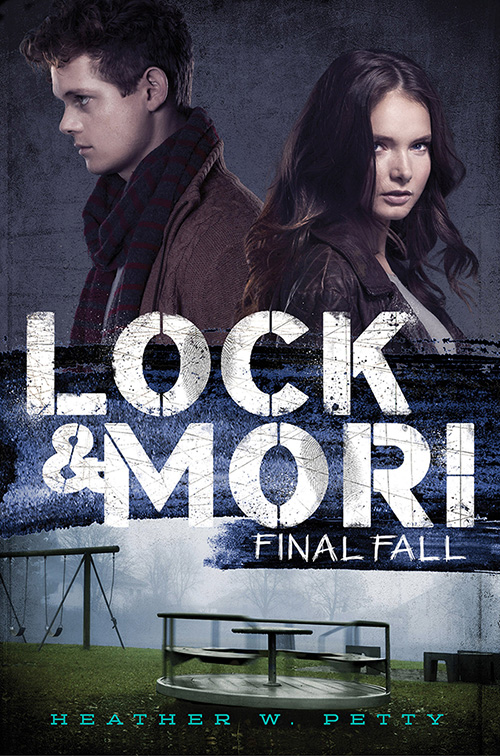 Lock & Mori Final Fall
Mori is out for revenge. Imprisoned in the English countryside, with her brothers held as leverage, she's never felt angrier or more helpless. When an opportunity for escape arises, Mori takes it and flees back to the streets of London, where she is finally able to plot the demise of her recently freed father and his cohorts.
But after a bittersweet reunion with Lock, she discovers that he may not be the ally he once was. In the face of blackmail, threats, and Lock's noble attempts to thwart her crusade, Mori has an impossible decision to make.
Can Mori wash the blood from her hands and walk away? Or will her final fall from grace be the end of everyone she loves?
Book Playlist
---
Giveaway!
Don't forget to enter the contest for a chance to win a ton of books by us and more! To enter, you need to know that our favorite number, and the number of  Daniel's jersey in Just One of the Royals is 77! Add up all the favorite numbers of the authors on the orange team and you'll have all the secret code to enter for the grand prize!
Plus, we also have an exclusive giveaway just on Leah Kate Write! Open worldwide! Enter below to win:
CONTINUE THE HUNT
To keep going on your quest for the hunt, you need to check out the 
next author! 
We wish you the best of luck in the contest! Also, let us know in the comments below what YA spring read you are most excited for!