YA Scavenger Hunt
Welcome to YA Scavenger Hunt! This bi-annual event was first organized by author Colleen Houck as a way to give readers a chance to gain access to exclusive bonus material from their favorite authors…and a chance to win some awesome prizes! At this hunt, you not only get access to exclusive content from each author, you also get a clue for the hunt. Add up the clues, and you can enter for our prize–one lucky winner will receive one book from each author on the hunt in my team! But play fast: this contest (and all the exclusive bonus material) will only be online for 72 hours!
Go to the YA Scavenger Hunt page to find out all about the hunt. There are SIX contests going on simultaneously, and you can enter one or all! We are part of the Orange TEAM–but there is also a red team, a gold team, an orange team, a red team, and an indie team for a chance to win a whole different set of books!
If you'd like to find out more about the hunt, see links to all the authors participating, and see the full list of prizes up for grabs, go to the YA Scavenger Hunt page.
About Us!
We're sisters who do everything together!
Our favourite hockey team is the Chicago Blackhawks
During the winter, you can always find the fireplace on our TV (and we always scream when we see The Hand!)
We own a small business that allows us to dress up as princesses on the weekend
Our favourite food is nachos
We chose 44 as Al's jersey number (in Just One of the Boys) because it's our Mom's lucky number!
---
SCAVENGER HUNT PUZZLE
Directions:
 Below, you'll notice that we've listed our favorite number. Collect the favorite numbers of all the authors on the
orange team
, and then add them up (don't worry, you can use a calculator!).
Rules: Open internationally, anyone below the age of 18 should have a parent or guardian's permission to enter. To be eligible for the grand prize, you must submit the completed entry form by October 8th, at noon Pacific Time. Entries sent without the correct number or without contact information will not be considered.
SCAVENGER HUNT POST
Today, we are hosting Amber R. Duell on our website for the YA Scavenger Hunt! Amber R. Duell was born and raised in a small town in Central New York. While it will always be home, she's spent the last six years living in Germany, Maine, and Mississippi as a military wife where the next step is always an adventure. When Amber isn't writing, she's wrangling her two young sons.
EXCLUSIVE CONTENT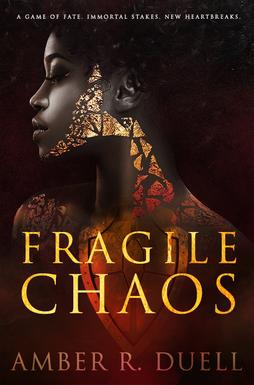 FRAGILE CHAOS
Sixteen-year-old Cassia, like many in the modern era, believes gods and goddess to be just a myth. Enemy to her country and an orphan of the war, she has no time for fairy tales. That's until religious zealots from Theo's sect offer her up as a sacrifice.
Can Cassia and Theo end the mortal war and return balance to the earth and heavens? Or, will their game of fate lead down a path of destruction, betrayal, and romance neither of them saw coming?
Deleted Scene
This was the original scene where Cassia asks the God of Death to take her across the river to see the dead. It never made it out of the first draft, but I love Leander so much that I saved it for myself. Now I'm sharing it with you! It's still in its raw, first-draft form, only slightly edited to remove spoilers. 😉 
** 
Leander stares at the yellow flames crackling inside the fireplace. The warm glow fills the cavernous room, dancing across the carved opal walls. He flips through a book on his lap, but his gaze remains steadfast. 
I hesitate in the doorway, but disturbing the God of Death is a better alternative than suffering through another day of deafening silence. "Knock, knock." 
"Cassia." He jumps in his chair, and the book falls to the floor with a heavy thud. "What are you doing here?" 
Heat crawls up my neck. Maybe I shouldn't be here. Maybe this is somewhere Leander goes to get away from the rest of the world, though his entire realm eerily still. "I didn't mean to sneak up on you. I can leave." 
"No. It's fine." He scoops his book back up and motions at a black leather sofa. "Do you want to sit?" 
I nod and make my way across the room. "Are you really in this big place all by yourself?" 
He smiles. "You're here." 
"But—" 
"Sacrifices came. Brides, too," he says, cutting me off. He isn't angry though. Simply resigned. "But this place wasn't made for the living. When they were ready to move on, I let them go." 
Pity scratches my chest. Had he loved any of them? Had they stayed long enough to love him? Of all the gods and goddesses, it would be easiest to have feelings for Leander. Where Theo is consumed by fire, Leander is a single glowing ember waiting for someone to breathe life into him. 
"How are you doing with all of… this?" Leander waves his hand in front of him. 
"I'll survive," I grumble. 
"Of course you will, but you're allowed to break a little if you need to." He picks at the corner of his book. 
I scourer his face for any sign he's being insincere but find none. "I'll be fine as long as I find something to keep myself busy. Maybe you can make me your official rat catcher." 
His laugh is a deep, infectious sound. "Please, no more rodents." 
"Well, I have to do something. Maybe you could—" I bite my tongue. I don't want to see the dead. Not really. But, maybe a part of me is desperate to be sure Theo isn't keeping his word for a change. 
"What?" Leander prods. 
I twist my hands in my lap. "Will you take me across the river?" 
---
Giveaway!
Don't forget to enter the contest for a chance to win a ton of books by us and more! To enter, you need to know that our favorite number, and the number of Al's jersey in Just One of the Boys, is 44! Add up all the favorite numbers of the authors on the orange team and you'll have all the secret code to enter for the grand prize!
Plus, we also have an exclusive giveaway just on Leah Kate Write! Open worldwide! Enter below to win:
An e-book of Just One of the Boys
A $15 Amazon gift card
CONTINUE THE HUNT
To keep going on your quest for the hunt, you need to check out the 
next author! 
We wish you the best of luck in the contest! Also, let us know in the comments below what you're going to be for Halloween this year!